Community Newsletter: December 2020

IN THIS ISSUE:
Message from the Chair
2020 has been filled with new challenges brought about by the pandemic, not the least of which has been the need to pivot to virtual events and meetings. We were able to take an in-person DVCon U.S. as COVID-19 began to take hold in the U.S. in March and offer it online to those who were unable to attend due to the rapidly unfolding travel restrictions.
DVCon Europe was held in October on a virtual platform with virtual reality components throughout the two-day conference, providing attendees with a truly immersive, interactive experience. In India, the steering committee was able to organize a virtual Accellera Day India despite the tremendous challenges with the local infrastructure due to the pandemic. Held last week on two half-days, the conference was well attended and received.
In the coming months, DVCon U.S. 2021 will be held entirely on a virtual platform, and DVCon China plans an in-person event on May 26, 2021. The local community will be in attendance, and international participation will be virtual. Stay tuned for more as planning evolves and the new year begins.
Although we have been unable to hold in-person gatherings and meetings, our standards efforts have not languished. Most of our meetings were already held virtually, so progress has continued throughout Accellera's working groups. Our Portable Stimulus Working Group has made significant advancements toward the Portable Test and Stimulus Standard 2.0 and recently released a draft for public review. This is an important update with great industry support and many vendors offering products based on the standard. We encourage industry feedback on the draft standard through our community forum.
I would like to thank our community for a very productive 2020 despite the unprecedented challenges everyone has faced around the world.
We look forward to a new year, with a post-pandemic optimism and the enhanced remote teamwork capabilities brought about through much creativity and innovation.
From all of us at Accellera, please stay safe and vigilant against the virus. We wish you a wonderful, healthy holiday season and Happy New Year.
Sincerely,
Lu Dai, Accellera Systems Initiative Chair
Working Group Update: Portable Stimulus
The Portable Stimulus Working Group recently released the Portable Test and Stimulus Draft Standard 2.0 (PSS) for public review. Download the draft standard for review here. The public review is open through December 18, 2020
The draft includes about 90% of the projected functionality that will be included in the official Portable Test and Stimulus Standard 2.0 release expected in March 2021. New major features intend to improve the usability of the Portable Test and Stimulus Standard 2.0 and expand its portability and flexibility to a broader class of verification challenges.
Additions to the draft of the 2.0 standard include several new language features:
Core library for standard portable functionality and utilities for common PSS applications, including register accesses and memory allocation and management
Collection types, including arrays, lists, maps, and sets
Parameterized types
Constraint enhancements, including default constraints and propagation
Enhanced activity-level generation and scheduling constructs
Improved portability of procedural constructs for test realization
While the working group finalizes the remaining functionality, it encourages feedback from the community during the review period on the major additions included in the draft.
Feedback can be provided through Accellera's Portable Stimulus 2.0 Public Review Community Forum.
For more information on the working group and to view additional resources, visit the Portable Stimulus Working Group page.
Upcoming Accellera Events
DVCon U.S. 2021
The virtual DVCon U.S.2021 advance program is now available online, and registration is open. DVCon U.S will be held March 1-4, 2021 on a virtual platform and will offer attendees a combination of recorded presentations and live Q&A to provide an interactive, high-quality virtual experience.
"We are very excited about the virtual program we're able to offer DVCon U.S. 2021 attendees," stated Aparna Dey, DVCon U.S. 2021 General Chair. "Our steering committee has developed a program filled with in-depth technical material for practicing design and verification engineers, EDA developers and design mangers. Attendees of the 33rd annual DVCon U.S. can learn about both practical solutions to address their current design challenges as well as preview new technologies that will help them in the near future. Additionally, the virtual conference structure itself offers attendees variety and flexibility, with a combination of live streaming and recorded presentations, so attendees can view certain sessions on demand. We're very pleased that we received record speaker submissions for technical papers, panels, tutorials and short workshops, which allows us to offer a very comprehensive technical program."
Attendees can choose from a broad selection of 42 papers, four tutorials, approximately 15 posters, two panels and 19 short workshops over the course of the four-day technical conference and exhibition.
Accellera Day opens the conference on March 1 with a tutorial from the Portable Stimulus Working Group, "Portable Stimulus 2.0 is Here: What You Need to Know" and five Short Workshops presented by Accellera working groups:
"UVM-SystemC Randomization" from the SystemC Verification Working Group
"Getting to Know Accellera's Emerging Hardware Security Standard: Security Annotation for Electronic Design Integration" from the IP Security Assurance Working Group
"UVM-AMS: A UVM-Based Analog Verification Standard" from the UVM-AMS Working Group
"Multi-Language Verification Framework Standardization and Demo" from the Multi-Language Working Group
"An Introduction to the Accellera Functional Safety Working Group Standardization Effort" from the Functional Safety Working Group
For the complete DVCon U.S. 2021 schedule, including a list of tutorials, short workshops, panels, posters, and virtual events, visit the program agenda.
Advance registration rates are available through January 31, 2021. For more information and to register, visit the registration page.
To view the papers and presentations from the DVCon U.S. 2020 follow up virtual conference, including some with audio recordings, visit https://2020.dvcon-virtual.org/.
DVCon China 2021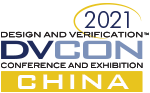 DVCon China will be held at the Renaissance Shanghai Pudong Hotel on May 26, 2021 in Shanghai for local attendees and will include international participation virtually.
Stay tuned for more details in the coming weeks.
Post-Event Summaries
DVCon Europe 2020
DVCon Europe 2020 was held in October entirely on a web-based platform, which also included a full Virtual Reality (VR) 3D world. The VR world was used for poster sessions and exhibit booths as well as easy networking among attendees.
The main portion of the conference offered attendees four keynote speakers, 24 technical papers, 13 tutorials, and two panels, all of which were well attended. In parallel with the main portion of the conference there were opportunities for attendees to attend various Virtual Experience Rooms. The rooms contained nine exhibitors and 11 poster presentations and many opportunities to connect with colleagues using an avatar chosen by each attendee.
"Networking is an important component of DVCon Europe, and we are happy with the results of our experiments with the VR world," stated Joachim Geishauser, chair of the DVCon Europe steering committee. "We felt that this VR experience was very useful."
The award for Best Paper went to Michele Chilla and Leonardo Gobbi of Qualcomm Ireland, for "Clock Controller Unit Design Metrics: Area, Power, Software flexibility and Congestion Impacts at System Level."
DVCon Europe 2021 is planned for October 2021 in Munich, Germany.
SystemC Evolution Day 2020
The fifth annual SystemC Evolution Day followed DVCon Europe as a full-day virtual technical workshop. Focused on the evolution of SystemC standards to advance the SystemC ecosystem, the workshop drew more than 100 attendees from around the world.
There were five interactive technical presentations throughout the day, as well as an update on current activities in the Accellera working groups. Attendees took advantage of the time allotted for open discussion related to the presentations. Virtual networking also provided a great opportunity for colleagues to connect from around the globe to share ideas and experiences.
The morning session contained presentations and discussions about TLM extensions for off-chip protocols, and Multi-core debugger connections, both which generated discussions as well as ideas for future standardization work.
The afternoon session started with Multi-Language Verification, and Temporal Assertions, followed by a presentation on Matchlib, an open source library for HLS. Also here, we had interesting discussions, and topics for further processing in Accellera Working groups were identified.
The presentations are now available for download.
Accellera Day India 2020
Due to the pandemic, we adapted DVCon India to a virtual Accellera Day India 2020. Held earlier this month over two half days, there were many informative presentations for attendees to choose from. A keynote presentation kicked off each day — one focused on RISC-V and the other on automotive safety. Accellera working group leaders presented updates on Functional Safety and IP Security Assurance, and interactive tutorials focused on formal verification, portable stimulus, USB4 protocol, and UVM methodologies.
"Accellera Day India 2020 is a tremendous success," stated Sanjay Muchini, Accellera Day India General Chair. "I would like to thank the committee members for their countless hours preparing for the virtual edition with valuable technical content. Our steering committee did an excellent job planning and executing Accellera Day India. With a virtual edition this year, we continue the interest and momentum for our design and verification conferences in India. We look forward to more success with DVCon India 2021."
IEEE Get Program Update
Since its inception, the Accellera-sponsored IEEE Get Program has resulted in more than 118,000 downloads. The IEEE Get Program provides no cost access of electronic design and verification standards to engineers and chip designers worldwide. For more information and to view the standards available for download, including the newly released IEEE 1800.2-2020, visit the Available IEEE Standards page on the Accellera website.
2020 Global Sponsors
Are you interested in becoming a Global Sponsor? Find out more about our Sponsorship Package.
Copyright 2020 Accellera Systems Initiative